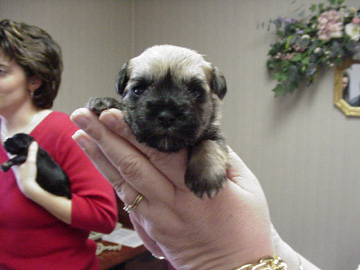 A serious breeder will usually have years of experience in making breeding decisions. They will study the pedigrees of both dogs before they breed. They will be knowledgable of the health issues concerning their breed and will do genetic testing on the breeding stock to ensure that both the parents and the puppies are healthy.
They will make sure that the pups are properly socialized and raised to be calm and confident by being exposed to normal household noises. This means that they will be raised inside the breeders home, not in a kennel. It also means that the breeder shouldn't have more litters at one time than they can adequately socialize.
Reputable breeders would not sell to pet stores. They feel responsible for their pups well being and will want to find the best possible home for them. They will question prospective buyers to make sure that they will give the pups a proper home and they will answer any questions that the buyer may have.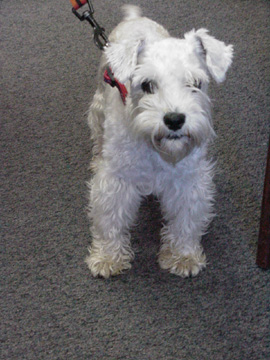 A serious breeder will have a sales contract that sets forth the breeders policy regarding a health guarantee, their refund/return policy, their spay/neuter policy, and other rights and responsibilities between the buyer and seller.
They will offer you support with your new puppy and always help you place the dog (or take it back) if for some reason you can't keep it.
They will be able to provide you with references from previous puppy buyers and from their vet. They would also be happy for you to come to their home to see how their dogs are kept and their pups are raised.
A serious breeder's reason for breeding will be to improve the breed and ONLY to improve the breed. They will be committed to breeding excellence. "Physical soundness" is not their only concern. The personality of the dog is something you will live with for years so ask about the pups family background or the results of similar breedings so that you can be able to judge the background of the pup.
A serious breeder may or may not show their dogs. This makes them no better or no worse, no more or no less knowledgable or caring. There are good and bad breeders everywhere and everyone who shows is not a reputable breeder, just as everyone who chooses not to show is not a bad breeder or puppy mill. Experienced breeders will agree with what Richard G. Beauchamps wrote in "Success in show dogs" (The Stud Dog - Dogs in Review - February 1999): "the biggest mistake a breeder, novice or veteran, can make is to confuse their show dogs with their breeding stock...This is not to say a winning dog can not also be an outstanding reproducer...But I cannot stress strongly enough that it is the producing ability that must be looked to and not the show record!".
A good breeder won't be overly critical of other breeders. They are working on improving the breed and sharing their knowledge with other breeders and they don't have the time for criticizing others.
Please remember that purchasing a dog is a major decision which should not be rushed. You should read books about the breed and become generally familiar with their qualities, including temperament, health, life span, exercise and grooming requirements, suitability with children and with other dogs, ease of training, etc. You should not rush to purchase your puppy but, rather, evaluate several breeders, the pups available and the breeding adults. Remember that "AKC registered" does not guarantee quality. Learn the breed standards and judge the quality of the pups by applying the standards.

Contact Us



HOME

Copyright © 1998, 1999, 2000, 2001, 2002, 2003, 2004, 2005, 2006, 2007 Greystoke Miniature Schnauzers All text and images on this page are property of the above and may not be used without permission. All rights reserved.
Web design by Greystoke Enterprises